Sports
Gary Neville: New Valencia head coach 'faces big challenges'
Gary Neville's appointment at Valencia provides a wonderful opportunity for the England assistant coach, who has joined a big club that is competing in the Champions League and boasts a talented squad plus a large and passionate fanbase.
Furthermore, he will arrive with plenty of prior knowledge about his new club thanks to his brother Phil, who was appointed assistant coach earlier this year.
But the former Manchester United defender also faces a number of major challenges that will have to be addressed immediately – starting with his relationship with the club's owner.
Negotiating a political minefield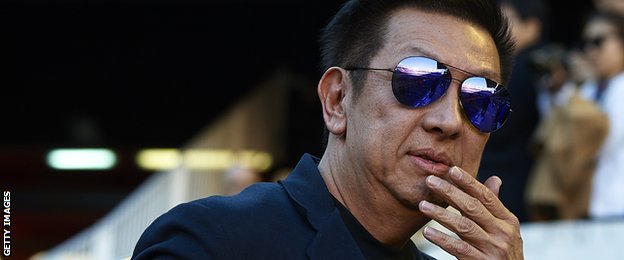 To say that Gary Neville has arrived in a delicate political environment is putting it mildly (pay attention, because this part is complicated).
Firstly, he will have to prove he is not a mere puppet for the club's owner, Singaporean businessman Peter Lim, who also has a significant investment in Salford City, the non-league club owned by the 'Class of 92' group of ex-Manchester United players, including the Neville brothers.
For British football followers accustomed to Neville's wholehearted performances on the pitch and his equally forthright views as a media analyst, the idea of him being anyone's 'puppet' seems somewhat ridiculous.
But Valencia fans aren't quite so familiar with Neville's bold personality, and many are alarmed by the idea their new manager was only appointed because he happens to be a friend of the owner due to their business relationship at an obscure football club in another country.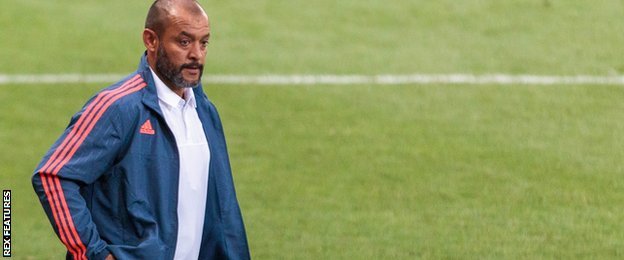 And that's not all.
The job at Valencia became available when predecessor Nuno Espirito Santo was effectively hounded out by the club's fans, who were disgruntled firstly at his team's unconvincing results but also because of his close relationship with super-agent Jorge Mendes.
The Portuguese was instrumental in the deal that brought Lim to the club last season, and has since maintained a key role in the club's affairs by effectively acting as their chief scout and director of football all rolled into one.
Nearly all the players signed by Valencia since Lim's takeover are Mendes clients, as is Nicolas Otamendi, who was sold to Manchester City this summer to the fans' horror.
Fans are desperate to see the agent's role at their club reduced, and the appointment of a non-Mendes man such as Neville is a good starting point; but with so many players under his influence, Mendes remains an important figure and Neville cannot afford to alienate him completely.
Winning over the fans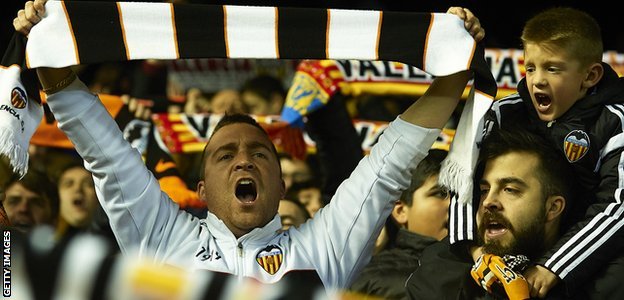 Valencia fans are renowned as the most volatile and fickle in Spain, and their immediate reaction to the news Neville will be their manager was positive, but not without dissent.
At the time of this article's publication, a majority of fans – 71% – had voted in favour of his appointment in a website poll held by local newspaper Superdeporte.  But that still leaves plenty of supporters who are opposed to his arrival.
After the departure of Nuno, Valencia fans were expecting a high-profile and experienced manager with a proven track record: former Barcelona boss Frank Rijkaard and ex-Swansea manager Michael Laudrup, who has been managing since 2002, were the leading candidates.
The fans' concerns about Neville are straightforward and obvious: he has never managed before, never played or worked in Spain and doesn't speak Spanish.
Five more big names thrown in at the deep end
Ruud Gullit: Won the 1997 FA Cup as Chelsea player-manager. Sacked in 1998, he coached Newcastle, Feyenoord, LA Galaxy and Terek Grozny
David Platt: Controversially appointed boss of Sampdoria – a former club – in December 1998, Platt lasted only six weeks
Frank Rijkaard: Led Holland to the Euro 2000 semi-finals on home turf. From 2003-08, won five trophies at Barcelona
Gianfranco Zola: First job was a 19-month spell at West Ham before spells at Watford, Cagliari and Qatari club Al-Arabi
Alan Shearer: Failed to keep Newcastle up in eight games in 2009 and has not managed since
And, at a club that has got through seven managers in the past three and a half years, there is also concern that his contract only runs until the end of the season. Neville will need to quickly convince his team's supporters that he does not see the club as merely a six-month learning experience.
As Nuno will attest, Valencia fans can be horrible to play in front of when they are angry. The Portuguese coach was a man, after all, who led the team back into the Champions League at the end of his only season in charge. But they still loathed him enough to force him out.
The converse is also true, however, and if he can succeed in getting the fans on his side, Neville could quickly become a folk hero to his new team's supporters.
Champions League qualification
Although he does not officially begin duties until Sunday, and will therefore not be in charge this weekend, Saturday's home game against in-form Barcelona will be a less than gentle introduction to life at Mestalla.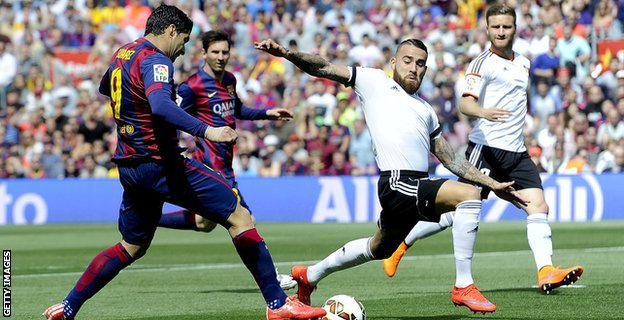 And when Neville's work formally gets under way, it will be straight down to serious business because his first game in charge is nothing less than a crucial Champions League home match against Lyon next Wednesday.
After picking up just six points from their opening five group games, Los Che know it is a must-win affair if they are to have any chance of prolonging their involvement in the competition.
The good news is Lyon have nothing to play for, condemned to Group H's bottom place with no chance of climbing any higher.
The bad news is that even victory might not be enough, because a win for second-placed Gent over Zenit St Petersburg – who know they will win the group no matter what – would render Valencia's result meaningless.
Clearly, the team's European predicament is not Neville's fault and failure to qualify would not be held against him, but progression to the knockout stage would result in a huge early boost in his popularity.
Reintegrating (or selling) Alvaro Negredo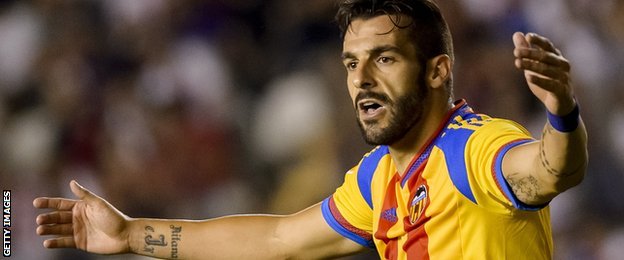 One of the biggest controversies during the latter days of Nuno's time in charge was his treatment of former Manchester City striker Alvaro Negredo.
When he arrived at the club, Negredo was hailed by Nuno as 'La Bomba' ('the bomb'), the superstar who would propel the team to a new level. And he lived up to that billing with a wonderful goal to help secure Champions League qualification in the preliminary round against Monaco.
For the past few months, however, Negredo has been sidelined by Nuno, with the striker not featuring at all since the start of October despite being fully fit – prompting fury from the fans, who regularly chanted Negredo's name during games as he watched on from the grandstand.
It was partly a tactical matter, because Nuno favoured a 4-2-3-1 formation with just one striker and opted for Spain international Paco Alcacer, who is more mobile and can link more effectively with the midfield than Negredo.
But there was also a suspicion, denied by Nuno, that Negredo was being 'punished' for not being part of the Mendes stable at the club and that he would be sold in January.
Young midfielder Rodrigo de Paul was in a similar position, also left out of the team for the past two months, and Neville will have to quickly decide whether (and how) he wants to bring the ostracised pair back into the team or leave them on the sidelines.
Learning the language
One of the first and biggest concerns raised by Valencia fans is Neville's lack of Spanish, with the question posed over how he can communicate with his players if he doesn't even speak the language.
This was a task former Everton and United manager David Moyes never overcame at Real Sociedad. And the fact Wales and Real Madrid striker Gareth Bale has learned little more than rudimentary Spanish has also been used against him during periods of criticism.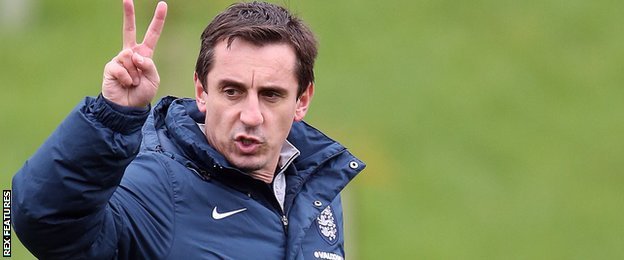 Neville, however, can follow the example of his brother, who has clearly embraced the challenge of learning Spanish, regularly tweeting in the native tongue.
Although his usage is not always perfect (during the summer he prompted hilarity by sending an unintentionally raunchy tweet about his morning activities on the beach) the fact he is at least attempting to communicate in Spanish is greatly appreciated by Valencia fans.
And those supporters will expect clear communication from their new manager, especially considering the political uncertainty within the club and owner Lim's famous unwillingness to conduct media interviews or appear in public.
In the all-consuming world of football management, time, of course, is precious and Neville will only have so many hours in the day to fulfil all his duties.
But however he does it, learning basic Spanish and using it in public should be an absolute priority – ideally starting in Thursday's formal unveiling.
Source:BBC